January is traditionally Pantomime season and 2020 had most of the elements of a classic Panto – the laughs were rubbish though!
It has to be said 2020 wasn't all bad as the Wrag Barn Golf Instagram Top 9 illustrates: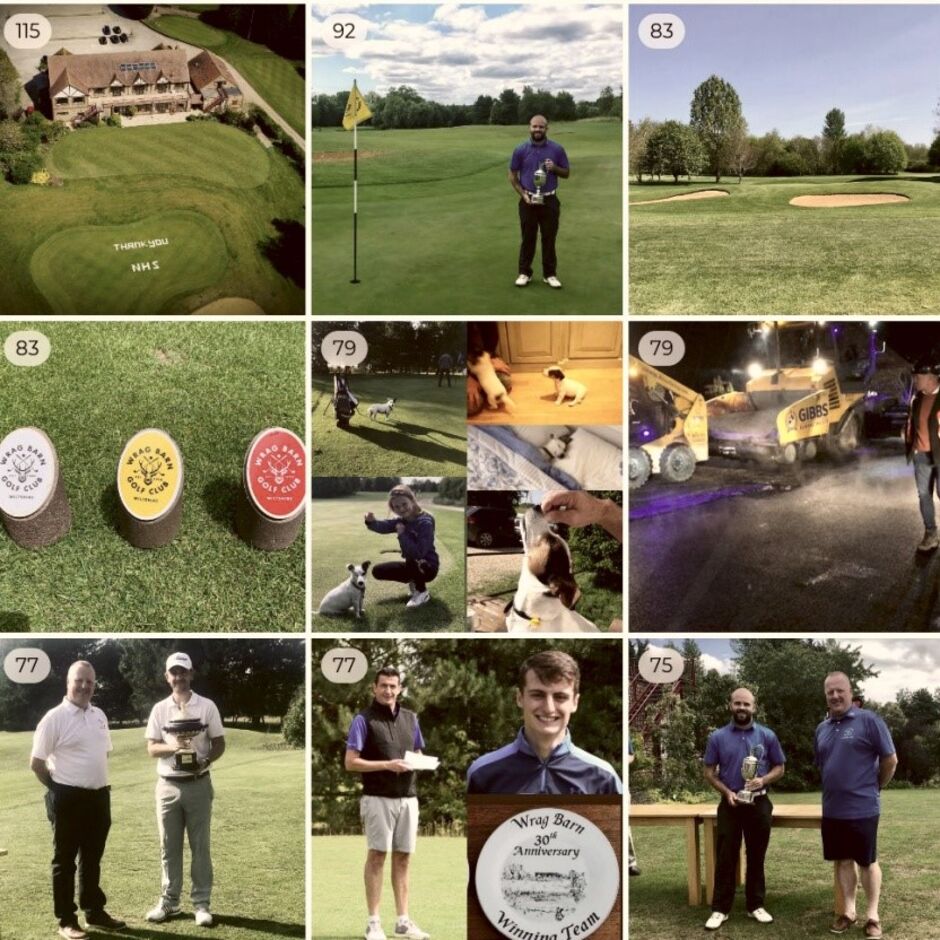 First up is the picture of our tribute to the NHS workers, inspired by a neighbour from Wrag View who wanted to try out new drone equipment during lockdown. We recruited willing helpers and soon had the message 'Thank you NHS' laid out using golf balls from the driving range on the 18th green. When the photos came out, Tim accused me of using Photoshop the letters looked so accurate (I think I said something like 'wash your mouth out you naughty boy in a tone which had never encountered a fish wife')
Andres Gomez Williams was crowned Wrag Barn Men's Champion 2020 with a gross score of 143; Jack Bright was in 2nd place with 152 and Tony Keyes in 3rd with 153. It was great for everyone that the competition could go ahead; Andres' picture appears twice, so it was a popular win.
The picture in the top right corner was taken in the first lockdown during that beautiful spell of weather. All credit to our green keepers who have worked tirelessly to make sure the course has been presented in the best condition possible whatever the weather throws at it.
New tee markers were popular as were the new signs sponsored by some of our members, thank you JT and Chris Woolley for putting them in – not forgetting the sponsors of course.
The pictures of Gary are a tribute to a brave little terrier who got pancreatitis due to some life style choices which lead to diabetes (2 jabs a day), and blindness (restored thanks to the skill of Eascott vets) – he was never far from Tim's heel or telling people to 'get off my land.'
The tarmac being laid in the car park has to be one of the most popular things we could have done – I'm not sure whether to be insulted or grateful for the large spaces in the front row, maybe Tim doesn't trust my handbrake turn skills. The funny thing is that Tracey was originally going to park by the top of the steps, but she makes me park there as she's frightened of hitting the wall!
Tony Keyes is the Club Champion 2020 with a score of 149; Mark Thomas scored 156 and Adam Jelly 157. There was a significant entry from our Junior section and again it was wonderful that the event could go ahead. All credit to the Men's committee and Tracey for running the competition.
The Wrag Barn 30th Anniversary 2 ball Texas Scramble competition ran in September and had a huge entry, so much so that the last competitors finished by moonlight; the scores were amazing and the winners were an accurate reflection of the family ethos of Wrag Barn as they were both Fathers and Sons. The winners were Richard and Lewis Ward with Andy and Riley Banks in second place – due to social distancing there wasn't a huge prize giving event and they had to send in pictures of their specially commissioned plates for us to shout about it.
Skipping through some of the more popular posts I found:
Wrag Barn's Cadet Champion, Riley Banks.
Wrag Barn's Junior Champion Ollie Webb
Wrag Barn's Ladies Champion Katie Walls
Congratulations on your achievements, these are always hard won with hard work and practice and finding your form on the day.
All things considered, it hasn't been so bad and we've had some fun; but welcome 2021 – let's make memories.
Happy New Year
Verity