30th Anniversary Celebrations
There was a huge turnout for the 30th Anniversary golf competition on 10th October, everyone was eligible to play and the format was a 2 ball Texas Scramble. We had all sorts of combinations – husbands and wives, friends, fathers, sons, daughters and pairs who'd never met but wanted to join the celebrations. The field was so large that the final entries were playing up the 18th when the sun was going down.
The new normal with the Covid regulations make it safer to avoid presentation gatherings but it didn't detract from the extraordinary results which were:
Winners
Richard and Lewis Ward with a net score of 62.2
Runners up
Andy and Riley Banks with a net score of 64.2
Both Father and Son teams are a huge part of the Wrag Barn Community.
Richard Ward ran the Junior Section for 12 years, unconditionally giving his time and wisdom which yielded fantastic results. So many Juniors have gone on to work in the golf industry or maintain a low golf handicap while pursuing a different career. Richard's son Lewis was Captain of the Junior Section in 2017 and after all their hard work, it's wonderful to see them have time to play golf together with such impressive results.
Andy and Riley Banks have an Instagram (@father_son_golf) and Youtube channel and use these platforms to inspire so many with the candid stories of their journey. They record the lows in as much detail as the highs which provides inspiration and support to other golfers. Andy never forgets to record how much he enjoys spending so much time with Riley during his formative years.

Two wonderful stories and worthy winners of the Wrag Barn 30th Anniversary Plates.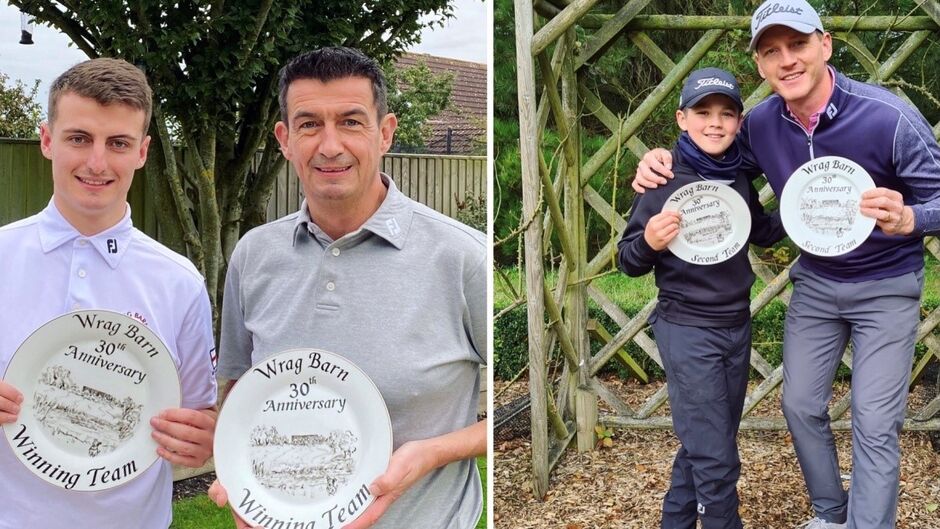 Richard & Lewis Ward (Winners) Andy & Riley Banks (Runners Up)